Who Am I?
Daniel Hernández Joseph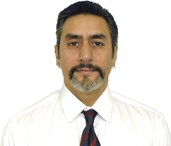 I am a member of the Mexican foreign service with over 23 years experience in consular affairs. For many years, I've been specifically involved in the area of consular protection. Since most Mexican citizens abroad are concentrated in the US, my work has been closely related to the issues of immigration, human rights and labor rights in that country. That explains my interest in the subject of migration. However, I am developing this page purely on a personal basis.
My undergraduate training is in International Relations (Earlham College, Richmond, Indiana). My graduate degree is in Latin American Studies (University of Texas at Austin). Besides working as a consul and protection officer, I've also been cultural attache and have published a few short articles on subjects varying from art, to media analysis to consular protection.
Currently, I work at the Mexican Ministry of Foreign Relations as Consul of Mexico in Laredo, Texas. The job leaves little free time and I tend to dedicate it to personal projects like developing this site and reading. Nonetheless, I try to keep it updated as often as possible.
I hope that this website is perceived not only as a door to some information, but also an invitation to write to me for dialogue and exchange of information.
---
Return to
homepage.
---
---
Contact:
Daniel Hernández Joseph
Email: Daniel@Migracioninternacional.com